Town Officials
Supervisor
Sharee Lanphear
(315)562-3704
Town Clerk
Pat Davis
(315)562-3400
Highway Superintendent
Duane Sykes
(315)562-3265
Town Board
Karl French
Jan Lennox
Amy L. Sykes
Emery Webb
Town Justices
Fred Finley
Sandra Gotham
(315)562-8113
Upcoming Events ... Is your club or organization having an event within the Edwards area? If so, you can get it listed here at no charge. Simply complete the upcoming events notification form.
---
May 20 ... Mark your calendar for 7 PM to be at the Hepburn Library in Edwards, 205 Main Street, to meet a local author.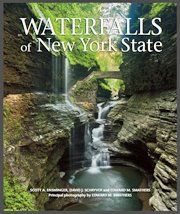 Retired ECS/ E-KCS teacher and 35 year resident of Edwards, David J. Schryver will be at the library with his book, "Waterfalls of New York State". Click on the cover graphic to learn more about this book. Plan your summer hikes to these beautiful waterfalls. Autographed copies of the book will be available for purchase. For more information, contact Elaine Archer at Earcher@tds.net or 315-562-3521.
---
---
Do you have a website?
If you are a town of Edwards resident with a personal or business website, we will provide a link to your website on the Town of Edwards site. Your business doesn't even have to be in town, as long as it is in the general area. Likewise, residents who are members of special interest clubs or not-for-profit organizations that serve the Edwards area can get links for these as well. Simply complete the Website Submission Form.
Regular Events ...
Story hour for all ages, every Wednesday morning from 10:00-11:00 at the Edwards Hepburn Library. Games, crafts, stories ... the public is welcome to attend.
The Edwards Fire Department conducts its monthly meeting on the first Tuesday of each month at 7 PM at the fire hall.
The Edwards Town Board meets the second Wednesday of each month, starting at 7 PM at the Town Hall.
The Town of Edwards Food Pantry occurs the third Monday of each month from 2 to 4 PM. Arrangements can be made at other times by calling 562-3296 or 562-8252. The Food Pantry is located in the Methodist Parsonage at 189 Main Street, the white house next to the Methodist Church. For more information, contact Charlotte Dean at 562-3296 or at 1cdean@tds.net.
---
---